Just a memory away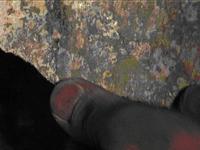 [ video ]
black room

ענת בראל + יובל יאירי - במרחק נגיעה
חלום/זיכרון של מקום. ספור העבר של הכפר שייח באדר חוזר הפעם למציאות סוריאליסטית כשבתיו האחרונים עומדים להיהרס על ידי כוחות נדל"ן.

A dream/memory of a place. The story of the Arab village Sheikh Bader returns once again to a surrealistic reality, when its last standing houses are to be destroyed by the power of money and real-estate.
Yuval Yairi
2007 Contemporary Israeli Photography, group exhibition, San Diego Natural History Museum 2007 Moods and Modes in Israeli Photography, group exhibition, Tel Aviv Museum of Art 2007 Palaces of Memory, solo exhibition, Alon Segev Gallery, Tel Aviv 2007 Art for Aid, group exhibition, Zuiderkerk, Amsterdam 2007 Current Visions part 2, group exhibition, Andrea Meislin Gallery, NY 2006 Lanterna Magica, Metaphysical Light in Israeli Photography, Bat-Yam Museum of Art 2006 d.t-minimum time, Qbox Gallery, Athens, Greece 2006 Heara 10, Science Museum, Jerusalem (4 min. video with Anat Barel) 2005 Yuval Yairi: Forevermore, solo exhibition, Tel Aviv Museum of Art 2005 Forevermore: The Hansen Project, solo exhibition, Andrea Meislin Gallery, New York 2004 "New Exposures" Recent acquisitions in Photography, The Israel Museum, Jerusalem 2004 Outside In, Sotheby's, London (with artist Marc Cohen, NY) 2003 The Valley Train, Gafen, Jerusalem 2002 Group exhibition, Popolus Gallery, Tel-Aviv 2002 Video installation (Yuval Danieli's exhibition "Shever"), New Gallery, Jerusalem

email artist's home page