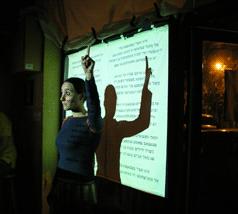 Albatros' Tail or the Tale of Albatros (detail)
Performance
Chorlton Hall
Fragment from Albatros 2003 or 2003 Albatros -
<br>On Yiddish modernist poetry / on its hebrew translation in yiddish script.Texts and manifests of the main yiddish poets of the 20th century (Peretz Markish,A.Leyeles, Avraham Sutzkever, Uri Tzi Grinberg, Moyshe-Leyb Halpern, Yaakov Glatshteyn, and more), and original yiddish texts written by Sala-Manca. <br> Light on one of the hidden sides of Israeli Literarture .
<div align=right>
פרגמנט מתוך אלבטרוס 2003 . <br>
על שירה יידיש מודרניסטית ועל תרגומה לעברית בכתיב יידי.
טקסטים ומניפסטים של משוררים יידים מרכזיים מהמאה ה-20 (פרץ מרקיש,
א. ליילס, אברהם סוצקבר, יעקוב גלטשטיין ועוד), וטקסטים מקורים ביידיש של sala-manca .<br>
אור על אחד מהצדדים המוחבאים של הספרות הישראלית.